Green Futures Lab
October 31, 2023
Lecture with Rasmus Astrup: City Nature and the Nature of Cities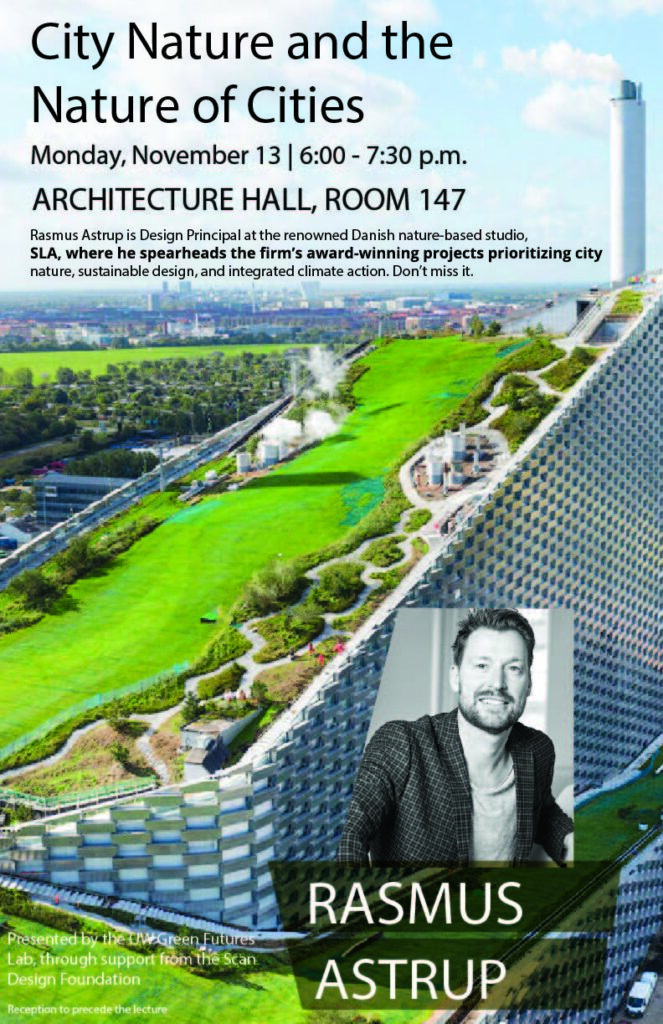 Recorded lecture can be found here:
City Nature and the Nature of Cities
Nov. 13 6pm
UW Architecture Hall 147
Thank you for those that were able to join us for an engaging and timely lecture by Rasmus Astrup of the Copenhagen-based design studio SLA, as he delves into the firm
'
s innovative approach to climate mitigation and adaptation, centered around the multifaceted capabilities of city nature. Discover how the nature-based firm of SLA, by embracing and utilizing both the social and biological values of city nature, enriches biodiversity and elevates the quality of life for all species.
In his lecture 
"City Nature and the Nature of Cities," 
Rasmus
elaborated on the thoughts and design processes behind a selection of SLA's most recent and innovative projects spanning from Copenhagen to Canada. He introduced UW faculty and students to and gain insights into iconic developments such as Quayside in Toronto, and Copenhill and St. Kjelds Square in Copenhagen.
Bio
Rasmus Astrup is Partner and Design Principal at the renowned Danish nature-based studio, SLA, where he spearheads the studio's largest and most complex international projects. Rasmus is a leading specialist in city nature, sustainable landscape architecture, and integrated climate adaptation and has led SLA's most forward-looking and award-winning projects all over the world. His perpetual emphasis on creating the best possible places for life – all life – is continuously manifested through inspiring and green urban spaces with living ecosystems that help create robust cities, better living environments for humans as well as biodiversity, and a higher quality of life. Rasmus is the recipient of several major international honors, amongst them the 2021 World Landscape of the Year Award.
Presented through the UW Green Futures Lab, with support from the Scan Design Foundation.
Partners + Funders