Green Futures Lab
July 12, 2023
Lecture with Martine Kildeby Copenhagen's BLOXHUB: Nordic Hub for Sustainable Urbanization
Martine Kildeby – UW Green Futures + Scan Design Foundation Lecture Series from UW College of Built Environments on Vimeo.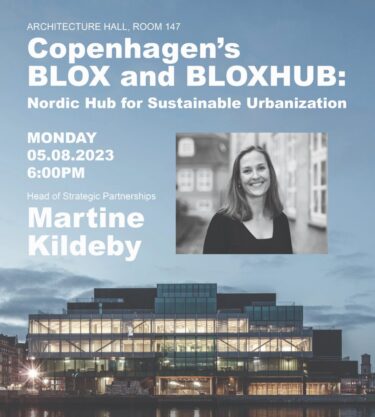 In case you missed it, we are thrilled to share the recording of a lecture that took place on May 8, 2023. Martine Kildeby, the Head of Strategic Partnerships for BLOXHUB, delivered an inspiring presentation titled "BLOXHUB: The Nordic Hub for Sustainable Urbanization."
During the event, Martine Kildeby provides an exploration of BLOXHUB's innovative programming and design showcasing the Nordic Models of collaboration that form the foundation for knowledge-sharing and innovative thinking in the realm of sustainable urban development.
The focal point of the lecture was BLOX, an architectural masterpiece crafted by the esteemed Office of Metropolitan Architecture (OMA) in Copenhagen. BLOX serves as a vibrant gathering place, that engages people in architecture, design and sustainable urban development through exhibitions, events, business development and partnerships.
Watch the recorded lecture here!